Helping Amador County: Interfaith Food Bank
Posted by Gold Country Team on Wednesday, March 10, 2021 at 8:52 AM
By Gold Country Team / March 10, 2021
Comment
How you can help give back to those that give the most.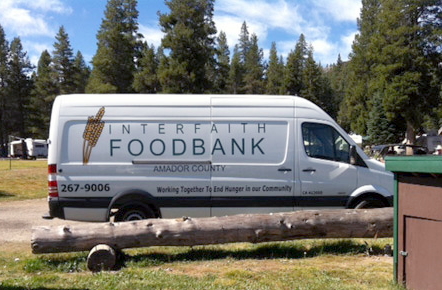 For the Interfaith Food Bank of Amador County, the year 2020 was a year of many struggles, and thanks to support from our community, even more triumphs. Despite taking on an almost 20% increase in the number of clients they serve, they also had to persevere with a lack in staff. Normally, Interfaith logs about 20,000 volunteer hours annually. But for obvious reasons, 2020 saw only 6,400 volunteer hours logged. So, how did this local food bank manage to provide to over 14% of the population of Amador County last year? Because those are the results of people who care:
"We're serving clients as we always have for the last twenty years, but we're doing it a lot differently now," said Beth Stanton, the Executive Director of the Interfaith Council of Amador, who has been running the food bank for over four years. "We used to have our clients come in to our lobby and sit down, have coffee, maybe a cookie, and we would talk with them—in addition to giving them groceries." Now, their only focus is making sure that food gets to the people that need it. And that's no easy feat when you have a staff of 4, only 4-5 national guards helping out, and a handful of volunteers that have only just begun to trickle back in due to the pandemic.
During 2020, Interfaith provided over 1,450,000 pounds of food to 2,140 families (that's 5,238 individuals), bringing them food multiple times a month. Over half of those helped were children and seniors. However, when it comes to helping the children in our county, Interfaith could always use more assistance: "We are building on our relationship with Amador Unified School District," Stanton said, when asked about her goals for 2021. "When the kids weren't in school (this past year), it meant that many kids that typically eat twice a day at school didn't have easy access to food anymore." Interfaith partnered up with schools and started sending boxes of non-perishables to the kids. "It went really great for a while, but kids can't carry around all of that non-perishable food all day. And it allowed for bullying and shaming. We're working to find a better way to disperse that food to the kids."
New strategies like that don't come from nowhere; they come from the generosity of donations. And when it comes to Amador County, that means the pressure is on the community: "Our biggest struggle is that we don't have corporate sponsorships in Amador county," Stanton said. While many charities might benefit from a constant influx of matched donations from a larger corporate sponsor, there are not many big, corporate entities in the Amador area. "We are just not privy to those kinds of funds coming in," Stanton added. Though their Thrift Store helps raise money for operating expenses, Stanton said that, "People donate because they want to buy food. So we try to keep our focus on buying food for our clients with all donated money."
It's a simply-stated goal with huge meaning behind it, and one that makes supporting this great organization an easy choice. While financial donations are still the best way to help, Stanton expressed that volunteers are what keeps their organization moving.
"If you feel safe enough to lend a hand, your help would be greatly appreciated," Stanton said. For every volunteer they have, the amount of people they can reach grows exponentially.
To the people of Amador County, Stanton expresses her thanks: "I want to say thank you, because [the people of Amador] are so generous. When times get tough, small counties like this just give back ferociously."
If you think you can join in on the ferocious giving, please visit FeedAmador.Org to donate or learn more info, and call 209-267-9006 to start lending a hand.
Interfaith Food Bank Amador County
12181 Airport Road
Jackson, CA 95642
209.267.9006
www.FeedAmador.org