How you can help give back to those that give the most.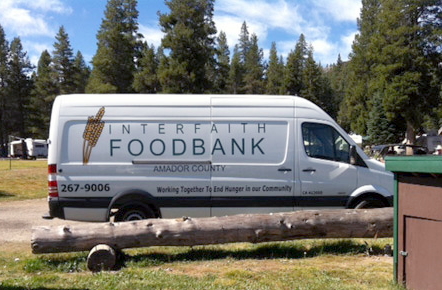 For the Interfaith Food Bank of Amador County, the year 2020 was a year of many struggles, and thanks to support from our community, even more triumphs. Despite taking on an almost 20% increase in the number of clients they serve, they also had to persevere with a lack in staff. Normally, Interfaith logs about 20,000 volunteer hours annually. But for obvious reasons, 2020 saw only 6,400 volunteer hours logged. So, how did this local food bank manage to provide to over 14% of the population of Amador County last year? Because those are the results of people who care:
"We're serving clients as we always have for the last twenty years, but we're doing it a lot differently now," said Beth Stanton, the Executive Director of the Interfaith Council of Amador, who has been running the food bank for over four years. "We used to have our clients come in to our lobby and sit down, have coffee, maybe a cookie, and we would talk with them—in addition to giving them groceries." Now, their only focus is making sure that food gets to the people that need it. And that's no easy feat when you have a staff of 4, only 4-5 national guards helping out, and a handful of volunteers that have only just begun to trickle back in due to the pandemic.
During 2020, Interfaith provided over 1,450,000 pounds of food to 2,140 families (that's 5,238 individuals), bringing them food multiple times a month. Over half of those helped were children and seniors. However, when it comes to helping the children in our county, Interfaith could always use more assistance: "We...