Are Amador County Housing Prices Cooling
Posted by Gold Country Team on Tuesday, February 15, 2022 at 2:50 PM
By Gold Country Team / February 15, 2022
Comment
The buzz is everywhere, the headlines abound: the housing market is poised to cool. But is it? And what does that mean? What trends or factors point to this? We'll try to answer these questions, and then take a deep dive into the Amador County real estate sales data.
What do experts mean by a "cooling" market?
Simply put, it means a decline in housing demand, transactions, and ultimately, prices. And it's certainly fair to predict cooling when the market's been heating up for so long; real estate is cyclical after all. But it's important to keep in mind that even the savviest expert wouldn't place a high bet on any specific set of metrics, especially these days.
Why? We're dealing with unprecedented circumstances like the pandemic, federal stimulus, work-from-home, and other dynamics that don't factor in to normal housing market prediction models. In fact, if you look back to the predictions real estate experts made in March or April of 2020, right when Covid happened, you'll notice that almost nothing that they predicted materialized. With many market dynamics in the Freakanomics category still very much at play, it's difficult to predict future prices with reliable accuracy.
So, to say things will cool off is ambiguous at best, and anxiety-producing at worst. It's a loose term to describe a wide range of guesses. Instead, let's look closer at the numbers, and try to get a sense for what they really tell us.
What would cause this to occur?
It's true that in Amador County (and almost everywhere in the US), home prices have been rising for years, then unexpectedly surged during – of all times – a global pandemic. We know inventory shortages and rock-bottom interest rates coupled with stimulus programs and newfound work-at-home flexibility all played a role. But no one predicted so much demand and appreciation, or that markets like ours would see record-breaking highs.
So, it's tough to know how or when the important peripheral dynamics (mostly related to COVID) will affect the supply and demand of homes, but what we can do is look at the housing market fundamentals. At the very least, this shows us what the data would indicate under normal circumstances with normal market forces.
One of these important factors is interest rates. The crazy-low-rate party is over; rates are already higher compared to last year, and the Fed plans to raise the discount rate more in 2022. Rates will still be low, but not as low. These incremental changes in rates have a bigger impact on payments and home affordability in the Gold Country than in lower priced markets. However, rising rates will not force large enough monthly payment increases to screech buyer activity to a halt, especially when demand is still strong. Instead, it will reduce buyer competition and position buyers with a little more negotiation power, driving down prices perhaps by roughly the increased cost of borrowing. Albeit a subjective approximation, this is a fair one and typical of what we see under normal conditions.
The other major factors that affect real estate transactions, such as employment and income, are not just stable but surprisingly strong. The national unemployment rate is trending around 3.9%, a near-historic low. In Amador County alone, unemployment improved a staggering 37% from January to December 2021. This is a fast rebound from the equally fast 2020 job losses, indicating a fundamentally healthy job market. Median household income also remains strong across the US and in Gold Country. Amador County median income increased 6.7% from 2018 to today, despite Covid. We know that these dynamics can change, but our current national and local data underscores strength in the housing market.
Finally, new construction is an important contributing factor to the state of resales. The supply chain and Covid concerns for workers has put huge constraints on building homes. This, of course, limits housing supply to homes that already exist, increasing competition for them and thus prices.
the Bottom Line
We don't know how all the repercussions of Covid will affect the foundational economic factors which in turn affect housing. There are too many variables and unknowns. But we do know what those fundamental metrics look like today, and how the market normally reacts to them. Today, those factors indicate price stability and perhaps further growth, with the chance of a slight price decline later in the year as interest rates rise.
Zooming in on the Amador County Housing Market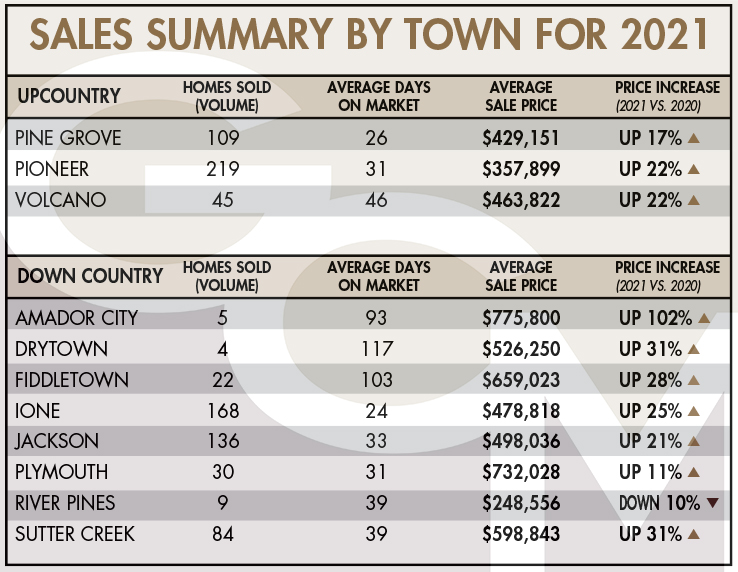 In 2021, Amador County's real estate market was exceedingly strong, and shows no sign of cooling. A total of 831 homes were sold (a 4% increase over 2020), and they sold much faster and for more money than in years past. Amador County homes took just 33 days on average to enter contract after being listed, 48% faster than in 2020.
Average home sale prices surged 22% in 2021 in Amador County, with almost every town (in both Upcountry and Down Country) experiencing double-digit percent price increases. The county-wide average sale price was $468,336, compared to just $383,891 in 2020. Below you'll find a detailed summary by town.
Considering a move? Have questions about Gold Country Real Estate?
Our Gold Country Modern Real Estate Team is here to help. We stay tuned in to local buyer behavior and the broader forces at play in the market. We'd love to walk you through the proven process we utilize to help prepare, price, list, market, and sell your Gold Country home for maximum profit (and with minimal stress). We'll will answer your questions or give you an updated assessment of your home's value, without any cost or obligation. Give us a call at 209-425-4700 today.