AMADOR COUNTY REAL ESTATE MARKET BOOMS AMID CORONAVIRUS PANDEMIC
Posted by Gold Country Team on Tuesday, February 2, 2021 at 4:51 PM
By Gold Country Team / February 2, 2021
Comment
SURPRISE: AMADOR COUNTY REAL ESTATE MARKET BOOMS AMID CORONAVIRUS PANDEMIC
AVERAGE HOME PRICES SKYROCKET 13% IN AMADOR COUNTY. QUEST FOR HOMEOWNERSHIP STRONGER THAN EVER, ESPECIALLY AMONGST URBAN BUYERS SEEKING RURAL, GOLD COUNTRY LIVING.
2020 will always be remembered as an incredibly challenging year in which COVID-19 seemed to shut down the world. However, you may be surprised to learn that our local residential real estate market boomed in 2020.
Despite the challenges presented by the pandemic, the Amador County housing market was a shining star in 2020 as average home prices skyrocketed 13%. While few people would have expected this (especially during the first few months of the pandemic when the real estate market and economy came to a grinding halt) the Gold Country real estate market came roaring back in late Spring and early Summer and hasn't shown any signs of slowing down.
WHY IS THE GOLD COUNTRY REAL ESTATE MARKET SO STRONG?
From our perspective, the biggest driver has been the state and county's requirement to "shelter in place" which has forced people everywhere to spend a lot more time at home. As days turned to weeks, and weeks turned to months, that extended time at home caused many people to re-evaluate their living situation and priorities. During this time of self-reflection, consumers seemingly placed a significantly greater value on the importance of a home and its new meaning as a place to live, love, relax and work. Additionally, as people were going through this period of self-reflection, employers (especially those in the San Francisco Bay Area) were also adapting to the pandemic and allowing their employees to work from home — many on a permanent basis.
As a result, people felt more liberated with their live-work choices (especially city dwellers) and rural real estate markets have surged as people seek more indoor and outdoor space in less densely populated areas such as the Gold Country.
A CLOSER LOOK AT AMADOR COUNTY REAL ESTATE
In 2020, a total of 804 homes were sold in Amador County which represented a 23% increase over 2019. On average, homes took 64 days to sell at an average sale price of $383,891, a 13% increase over 2019. Below you'll find a detailed summary of sales by town for 2020 or you can view LIVE data on Amador County real estate market trends on our Gold Country Modern website.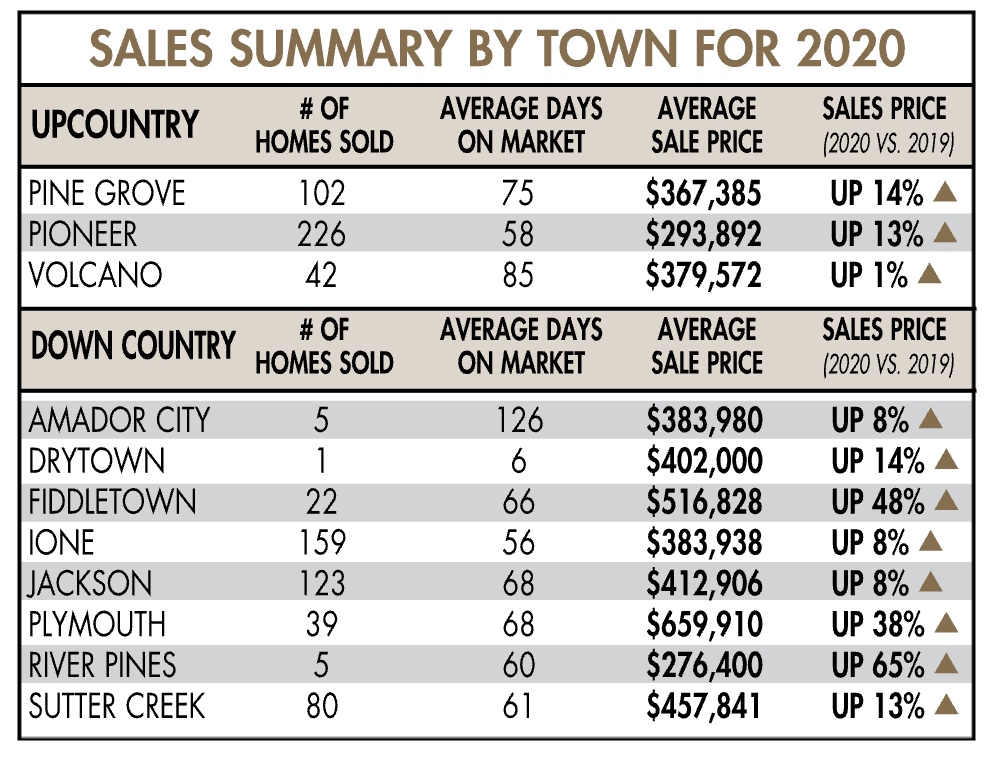 A LOOK AHEAD
According to many experts, the real estate market is expected to continue growing in 2021, and it's largely driven by the lasting impact the pandemic is having on our lifestyles. As many of us spend extra time at home, we're reevaluating what home means and what we may need in one going forward.
BOTTOM LINE
It's clear that homeownership needs are changing. As a result, Americans are expected to move in record numbers this year. Additionally, the impact of Proposition 19 which recently passed is also likely to give many eligible long-time homeowners a serious reason to move by allowing them to sell their home and transfer their existing property tax assessment to a new home anywhere in California.
If you are trying to decide if now is the right time to sell or buy a home, let's connect today to discuss your options. You can reach Gold Country Modern Real Estate, your Gold Country Realtors, at Team@GoldCountryModern.com or simply call 209-425-4700.